Job Diagnosis
Europe Name
N/A

Japanese Name
Job Diagnosis

Events
N/A

How to Unlock
At least 2 male and female Miis of each, and 15 problems solved.
"A place where you can get free consult for a job thats suits each person. (Please register that person's birthday in order to get a diagnosis.)"

— Building description, Tomodachi Collection
Job Diagnosis is an island location in Tomodachi Collection. It is one of two locations exclusive to Collection that do not return in Tomodachi Life.
Job Diagnosis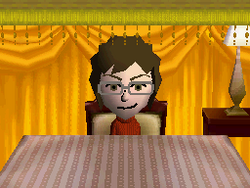 To find out their Mii's jobs, a birthday for the Mii is required. When the Mii is selected, the player will wait, and the expert will give a job ticket to the Mii.
The job will then be displayed on the top screen, and the job's text will be displayed on the touch screen. The player will be given the option to choose another Mii, or return to the island overworld.
The job given is dependent of the Mii's age, gender and personality, so changing either of the three will give the Mii a different job.
Job tickets will give the Mii any random job of their gender, and will differ for each use even with the same Mii.
Outcomes
Men's Jobs
Women's Jobs
Community content is available under
CC-BY-SA
unless otherwise noted.