Here at the Tomodachi Wiki, we aim to provide useful, up to date and complete information. However, in order to do this one must remain neutral and be without any bias or opinion when editing articles. This is called having a neutral point of view, or the concept of neutrality.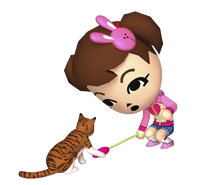 What is neutrality?

Neutrality is the concept of remaining neutral. When editing or writing an article, it has to be with a neutral point of view. In other words, writing without bias or opinion, and not as if giving advice. Doing this is simple: read on to find out more.
How do I remain neutral?

Neutrality is easy. When writing or editing, avoid speaking in first person with words such as "I" as in "I found that buying Interiors makes your Mii happier" or "I am getting ready for my marriage". Also avoid using the word "you", for example instead of writing "When you talk to this person this happens" say "When this person is spoken to this happens" or "When talking to this person this will happen". 
Avoid writing for popular opinion. Only write about facts. Using opinions is not neutral; for example, this would be describing a personality with as little bias as possible. Instead of describing your Mii as "amazing", simply state he is an outgoing leader.
What if it's unavoidable?

Sometimes remaining neutral is impossible. It's not a strict requirement, even though it is useful to consider the opinions of ordinary users. If you cannot write neutrally, then this isn't a problem and you may not get in trouble. Edits can be reverted or re-edited by other users who may be able to make neutral observations about an area of the Tomodachi series.
However, disregarding the guidelines with repeated violations and replacing content with non-neutral sentences may be treated as vandalism. If this is the case, an administrator or other Wiki user may contact you about your behavior with a warning or advice on how to reach neutrality.
Further questions

If you do not understand, feel free to ask one of our administrators or another user via their talk page that you feel can be trusted, and they may be able to offer you some assistance.
Community content is available under
CC-BY-SA
unless otherwise noted.