Here at the Tomodachi Wiki, we aim to provide consistent, accurate information. However, in order to do this one must be aware of the various writing styles required when editing or writing articles. This is called having a Style of Writing, or simply Writing Style.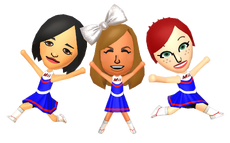 Article and File names

Article/page titles or file names must mention or be about the subject they are discussing. File names including excessive numbers and letters in a random fashion are frowned upon. Cameras and other software normally create numbered file names, but this is simple to edit.
When a file is not named correctly it can be nearly impossible to locate. For example, if an image of a wedding is named "Image_9283128.jpg" it will not appear when searching for images of "wedding" and make composing images on that page difficult, but "wedding.jpg" will come up. File names consisting of nonsense also encourage duplicate files, since users will generally search for images to avoid uploading a duplicate file. When the file name is nonsense it will not come up. With this in mind, names must also be official and consistent.
When an official name is not available, perhaps because the page or file name is already taken, one that describes the situation can be used. For example, a picture of a Mii in their apartment can be called "Mii in Apartment.jpg". Using numbers to indicate other images is also acceptable, such "Mii 2.jpg".
Article writing
Observe the Tomodachi Life Wiki:Neutrality guidelines.

Write in third person, never in first person unless exceptions apply.

Write a brief definition of the article's subject as the first sentence or paragraph.
The first time the article title appears in the text, it must be written in bold. See Café, where the first word of the article begins with the subject and is written in bold text.
Grammar is important. If writing a quote, remember to use quotation marks (").
Spelling. Please use US English ("color" instead of "colour") and avoid slang terms unless directly quoting.
Linking (e.g. [[Example]]) to other pages is usually limited to the first occurrence within the article (excluding infoboxes and templates). Long articles may use more than one link, if appropriate.

Don't make links to other articles in headings.
Capital letters

The capitalization of letters must be used moderately and only when necessary.
At the beginning of a paragraph or sentence.
Capitalize a heading like a title as well as in a table (including infoboxes and templates)
Nouns in articles should not be capitalized unless it is starting a sentence (i.e. "The mii and his friend are laughing" and not "The Mii and His Friend are Laughing".
Buildings and Locations
Each building or location that is in the game or referred to must have a page.
An opening paragraph describing the building/location.

It must contain the name (in bold).
The characters that appear in the location or control the building.
A basic description of the services it offers.
What games it appears in.
A brief description of its design and appearance.

A ==Role== section.

An in depth description of the services the building or location offers in the game. Describe each service it offers. Use sub-headings if the section becomes too long.
If the building appears in more than one game with differing services in each game, describe it's role under a sub-heading instead, using the headings below:

===In Tomodachi Collection===
===In Tomodachi Life===
Events
Each event that appears in the game requires a page. Be sure to follow the basic style below:
An opening paragraph describing the event.

It must contain the name (in bold).
When the event happens.
The characters that appear for the occasion or host it.
A basic description of the goals and special features.
What games it appears in.

An ==Events== section

An in depth description of the event, describing each objective (if any).
If the event appears in more than one game with differing objectives, describe it's role under a sub-heading instead, using the headings below:

===In Tomodachi Collection===
===In Tomodachi Life===

This is for images which are used within <gallery></gallery> tags. Each image must be followed by a description of what is happening within it.
Custom User Pages

This wiki is for official, universally applicable Tomodachi content. That means that pages dedicated to your village or your character or personal pages are not allowed. However such info is permitted under subpages of the User. When creating the page the title format should be User:USERNAME/PAGENAME.
Custom information submitted as a normal page will be deleted, as it is not covered by this wiki.
Community content is available under
CC-BY-SA
unless otherwise noted.