My Profile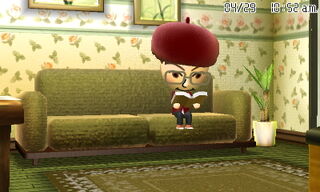 $$$$$$$$$
Oh, Hi! Honeybunny (JPJapanese: ハニーバニー

Romaji: Hanībanī

Meaning: Honeybunny) here! I am a regular Tomodachi Life fan who owns both the North American and Japanese (I also own Tomodachi Collection but who cares!?) versions of Tomodachi Life.
I am not planning to delete any Mii's because instead of deleting them, I just edit them of how I want or like.
I just love playing Tomodachi Life and playing games that have Mii's in it (excluding Wii Music).
$$$$$$$$$
My Islands
Pizza Island (Since 2015)
おにぎり島/Riceball* Island (Since 2019)
Trivia
Both Pizza and Riceball Island are summertime islands.

Pizza Island was founded on July 2015 while Onigiri Island was founded on June 1st 2019.

My Mii is spoiled with over $150 spent.
The game got massively reworked on December 2018 which either I deleted or recycled old Mii's. (Most of them were fictional characters that is originally made by me)
Riceball island shares the name with the name given to my island in Tomodachi Collection.
My in-game son is called Richie Jr.

No do not call him a parody of Richie Rich it is just a coincidence.

My Tomodachi Time is based on 10:30 AM to 11:00 PM.
I own 10 handhelds and 5 home console Nintendo systems.
UnlIke other Tomodachi Life fans, My islands has the most travelers on both islands combined! (Over 50 travelers more then the married couple)
I am the designer of the Head Template.
I am the designer of the Warning Templates.
I am planning to get the Korean version but don't worry, I'll get it.
Questions
Why is Daphne the most desirable gal on your island?
What is your favorite game?
Why do some Mii's on your island look basic?
Do you like Animal Crossing?
What is your least favorite game?
Do you own an Alexa?
How did you discover Tomodachi Life?
What is your 3DS friend code?
What is your Switch friend code?
Answers
She is beautiful!
Tomodachi Life. (Duh)
The more basic it is the older it is.
Yes but not as much as Tomodachi Life.
New Super Luigi U. (Because it is Super Bland and hard)
Yes I certainly do!
Unlike most people, I got it from watching videos on the eShop on my Wii U when I was 7.
9514-9518-0059
SW-5280-3756-6804
Mii
         Quote

"

Oh, Hi!

"

— Honeybunny's Catchphrase
Honeybunny
Europe Name
Depends On The Language

Korean Name
허니버니

Japanese Name
ハニーバニー

Events
Gaming Hours: 10:30 AM-11 PM

How to Unlock
Scan my QR Code down at the gallery.
Galleries
Gallery
Videos
Userboxes
| | |
| --- | --- |
| 1,000 EDITS | This user has edited more than 1,000 times. Gold Status |
| | |
| --- | --- |
| | This user's time zone is MST. |
| | |
| --- | --- |
| En | This user speaks English as his/her first language. |
| | |
| --- | --- |
| | This user is a WikiLord. They have edited loads! |
| | |
| --- | --- |
| | This user is a WikiHamster. They like to make small changes! |
| | |
| --- | --- |
| 日本語 | This user is fluent in Japanese. |
Poll
Community content is available under
CC-BY-SA
unless otherwise noted.