Red are things I hate about the game. Gray are things I find idiotic.
Why is there a gap between the Leisure Island and the Main Island? How do the Miis get across? Do they swim with their clothes on?
All the Mii interaction locations except the cafe and the beach have no way of the Mii leaving that place. Also the locations on the map look nothing like the location itself.
If you choose "Hmm..." on the name section, you can't go back. Either you come up with a name or restart.
How easy it is to Level-Up your Miis. I don't personally mind how easy it is, but it's such a pain on what to give if they're Level 50+. (Sure, you can give $0.01 but is that really worth a level-up gift?)
The Magic Show.
If a Mii is out with another opposite gender person than their partner. This could imply cheating.
Once you tap on the bubble on a confession problem, you can't go back. If the Mii happens to be taken or you think they wouldn't make a perfect couple, have fun having that Mii sit through sadness.
Really game? There are limits on things such as Concert Hall group performances, levels, items and such? I want this game to feel unlimited like I can play this forever, there is no stop, and I'm not getting that feel. Like I have 92 Miis and I can only have 50 songs saved on Group Performances.
Where is the bathroom and bedroom in a Married Couple's house? Is it in some location that the game isn't allowing me to see via the camera? Also if 1 Mii is in the shower, where is the other Mii?
How Travel Tickets are the only way to help improve relationships despite being very rare than any other item. This is extremely painful if a Mii of a couple is in the danger zone (Getting along OK or lower)
"Things aren't going so great with me and [Sweetheart/Spouse]..." ain't that lovely hearing that message from a Mii couple? Especially if it's a OTP? Also once you tap the bubble, I'm not gonna say it again cause you should probably know...
A Mii should be able to change their lip color like they can change their hair color, but they can't. I get it, Tomodachi Life came out in 2014. Miitopia and the Nintendo Switch came out in 2017.
Players love to cross dress their Miis. I an't one of those. They also love to give male Miis a beauty kit.
Fixed clothing (background dancers, astronaut suit if the Mii is going to space, etc.) The color should be set to whatever the Favorite Color the Mii is set to. For example: A Mii going to space will always go to space in a White Astronaut suit. It should be set that a Mii with a favorite color of Red will go to space in a Red Astronaut Suit.
Where exactly does a Mii need to go via a train?
I find it funny when a Mii randomly trips in their apartment, and it's even funnier when people are over, but just picture it when the floor is concrete like the "Photo Realistic" interior. Yeah......... better hope it's fake concrete.
If a friend is helping to take care of a Married Couple's child, why isn't that Mii present if the player presses the Babysit button? Does the Married Couple force that Mii to leave? That's a little harsh... It's even more noticeable if the Child is stages 4-5 as you can see the windows only noticing the visitor Mii isn't present.
A Mii can splash their sweetheart/spouse at the beach/fountain with their clothes on. Are you sure your shoes/socks are not getting soaked, or you are not ruining your sweetheart/spouses' clothes with water?
A Mii can confess their love in a classroom, A Mii can propose at the Train Station or at a Restaurant, but I can't access these locations. Sure, I get that the classroom and the restaurant are the Classroom and the Skyscraper interior, but if Miis can access this location, I should be able to, right? There's an article called Hidden Locations that addresses all these.
A Mii that is sick, sad, angry, or furious will act perfectly normal when they're at their home, especially when they're love gazing. What?
Exactly how long does a couple need to love gaze at each other? Especially new ones? Or if one steals a confessed Mii (cause I feel like these are longer)?
Miis can toss items such as an Expensive-looking vase despite the other Mii not getting injured or the item not getting damaged. Somehow they also manage to have 1,000 of them in their pocket.
I like the love interruptions that take place during a confession, but most of them look pretty noticeable and some of them look interesting.

A 2nd love rival at the beach will approach from the water with their clothes on again. Makes sense that the Mii drips water the whole time.
The first love rival at school is beneath a desk. Unless a certain Mii is that short to crouch under that desk. It's definitely noticeable.
The 2nd love rival at school is inside a locker. That doesn't seem very comfortable. Also kind of what I mentioned earlier about the desk one. There's no way a 6' Mii can fit in that thing.
If you listen real carefully, you can hear a crash when the 2nd love rival gets down from the opera pole. Are you sure that the Mii involved with the pole didn't get hurt? Or the pole causing a hole in the wall? Cause it definitely sounds like one of these.

Why do Miis need money? They're already rich as seen in the donation event and you can get at least $3 for helping out a Mii. Also, if you turn down money from a Mii, they will say they will donate it when they just put it in their pocket. Another thing is if a Mii wants to try again after being rejected and the player says "One more try!", the Mii will say he/she's going to use his/her savings to buy a present. Another thing, a Mii who got rejected by their crush can go for a 2nd attempt and give their crush, a $50 filet mignon. And apparently some of them use to own a car but then traded it in for a griller.
"My feelings have changed, let's going back to being just friends." Ends up not seeing each other for 8-12 weeks. Okey then.
When you're watching a fight flashback and the Mii says something that makes them go "Oops."
A child can be seen happily with their parents, but then a minute later (usually if you're overlooking the island), the parents are calling you because they can't calm down their child. Like what did you parents do to make your child bawl all of a sudden? Were you too busy gazing and didn't pay attention to your child?
Speech Bubble Dialogue:

Independent Miis may talk about how weird movie theaters are because they don't like sitting next to "strangers". 1. There is no such thing as a movie theater in TL, and 2. The "strangers" are all people from the island.
Confident Miis may talk about how they don't waste time on frivolous things like showers. Unless you wanna stink up the apartment building, I suggest you just get it over width. Also there isn't a bathroom present in the apartments.
A Mii may talk about how cozy their apartment is and they wished that Food Mart delivered. Technically Food Mart is being delivered because the Mii never leaves their apartment to go to Food Mart (unless they have a part time job).
A Married Mii may also talk about how they come home finding their sweet potato (spouse) at their house. What do you do before then? Sit in your apartment for several hours? I don't know.
These sibling statements, "You know that [Sibling] and I are family, right? Can you tell?" and "You know who I'm related to, right? It's, like, your job to know, isn't it?" Of course I know/can tell, why wouldn't I?
A Mii who got remarried will talk about how they're single even though they're not.
"I wish I could relieve the day [Spouse] and I got married." Yeah, I wish I could too... I can always use the screenies I took.
Miis telling me how to play the game. It's not like I haven't been playing the game for 2 years and probably forgot some controls cause I clearly didn't.
My Miis keep asking for more islanders to come to the island. Do they do this when the population is capped cause the rate they say something like this is absolutely ridiculous. Even when I just added islanders, they still want more.
Pretty much all the things a Mii can say but can't actually do, or the player can't actually do.
When a Mii talks about how they want their marriage to last forever, but when you look at their relationships, it doesn't look so hot.
"I trust [Best Friend] with all my heart. And all my tummy too!" I kind of didn't need to know that but okay...
When Miis talk about how they want to take over the island.
The "You look like you had a rough day" dialogue. The fact that they can say it at anytime of day does seem kind of weird, even when I just woke up they can say it.
A Mii with copying off can talk about how they want their hair to be changed/better. The point is certain Miis look good in a certain hairstyle so just stick with it.

Mii News Reports:

"Monumental [Mii]:" On this special day, a new mountain that took 20 years to build has been revealed and dedicated to a certain someone. I've only been playing this game for 2 years and it's talking about something that started in 1999 and finished right now. Also, I'm not even 20 so... How?
"Film Festival Winner Announced:" The island chose 1 lucky winner from 2,500 entries to win this prize. The winner uses 2 random items to make this video for some sort of "love" story. A judge says this will start a new film and era. So, 2,500 entries? That's a lot of entries. I have 92 islanders so if you do the math (2,500 ÷ 92), each islander had to make at least 28 videos. Also 2 random items in which they possibly could have nothing to do with romance.
"[Mii]: Kindergartner:" A Mii that is the age of 0 finished his/her first day of kindergarten on this day. This was done by having some sort of application approved to reenter kindergarten. The Mii also says that he/she's excited to meet lots of new friends. My main problem with this one is the age. A Mii that is 0 doesn't start kindergarten until the average age of 5. Also the Mii is somehow talking in this age. The average child doesn't talk proper English until the age of 4. Another thing, where exactly is the school taking place? Wherever the location, how many students are expected to be there?
"Horrific Toe-Stubbing Incident:" A Mii was in a rush to go pick up the phone. The Mii then happens to trip over 1 random goody right on the floor leaving them immobilized for a whole minute. The Mii then asks why pinky toes are a thing. Again, another report dealing with the "random" factor. If the item was a Age/Kid-o-Matic, it would be funny seeing the Mii hitting the item caused the spray to come out thus turning them into a/an kid/adult.
"[Mii]'s Dating Course:" A new popular course FOR GROWN-UPS that teaches how to attract the person of your dreams from a "love expert." 1 student remarks how he/she took the class as a joke but realized it changed his/her life that he/she could date anybody. The anchorman wishes the best luck on that person's future dates. The fact that it says it's for grown ups and the students/love expert can be a kid seems really interesting. Also once again with the random factor. On the bottom left of the poster, you can see a random food item.
"Bookworm [Mii]:" Everyone seems to be moving away from books, but they happen to find 1 islander who loves reading. This bookworm really is into books as he/she reads books before walking. The Mii also reads books while in the toilet and even in the shower. The Mii forgot how much books he/she read but he/she believes it's over 3,000,000. After reading all the books, the Mii plans to read the phone book next. This isn't normal, a Mii is THAT into books that he/she literally reads books everywhere (even in the shower which the pages would probably get wet and rip apart.) It's also kind of a shocker how that Mii manages to know an approximate amount of books, and 3 million is a lot of books. How is this possible? After reading books, why would you wanna read the phone book? Is there even a library in the island? And one more thing, there's a potty joke in here.
"Olympian Sky Diver:" On this day, a self titled "Olympian" feel from the sky wearing a Toga. The Mii commented that he/she didn't know where he/she was going and decided to stay and check everyone else out after landing. The Mii then escaped injury by landing on a Firefighters' net which was put out for a kitten. Realistically, the Mii is falling 20,000 feet from the sky that there is no way a net could catch him/her as he/she would probably go through the net. For something like that, you could use a parachute in which is not a thing in this game.
The "Who Logs the most Toilet Time?" is hands down the dumbest news report. Why does anyone wanna know who spends the most time in the bathroom? Apparently it's something special in this universe.
The "[Food] maker on sale!" report; which talks about how 2 random foods can be used to make 1 food, which doesn't make sense cause chocolate and green juice can't make a strawberry shortcake.
Those news reports where a guest Mii sounds higher/lower than their normal voice. If you have a Mii with a high pitched voice, be prepared to hear screeching.
Some of the Miis' apartments lack windows so how can a bird get in there?
I don't know if girls actually wear suits with ties in real life formally, but in some News Reports, Girls can be seen in a suit with a tie.
How exactly does Miis grow/shrink in their size?
A "Veggie burger burger bomb."
I never knew that all Miis actually have a home.

What the heck is the law here? You can get arrested for adding mustard to food?
One of the answers from a question , "Gaze lovingly." Yeah, we all know what y'all do.
Why is the clothing in the chat sessions not genderlocked? Like a gal can talk about how a boys' blazer would look adorable on a gal. A boys.
Age is technically just a number (except for sweethearts and marriage). Like a Mii that is 10 years old can have Miis that are like 24 years or older at their apartment. Also, couples can have major age gaps. And by MAJOR, I'm talking an 80 year old female out with a 20 year old male. It's a good thing Miis don't have differences when they age 'cause that would look horrific. Another thing, there can be age gaps between best friends, like a kid and an adult best friend.
Some of the answers from asking a personal question involve a Mii saying something that the Mii/player can't actually do.
Why does some of the dreams make Miis have a modified voice?
The fact that a baby will always have blonde eyebrows, especially when both of the parents DON'T have blonde eyebrows.
When Miis get married just to gaze at each other. Oh my god.
A Mii that is dating will talk about having a sweet dream about their sweetheart last night, despite when you saw that Mii's dream last night, It was the Mii pulling on red thread only finding a Mii that is not their sweetheart, or even more dumb, that Mii being a snail. Weird.
How does it take 5 years to open the Leisure Park yet the way to unlock it is to have a successful confession?
How does a Mii get sick? It's a good thing that the sickness is not contagious because that would be such a pain to cure a lot of Miis although it would be a good way to spend stomach and cold medicine 'cause I have way too many of both.
In TL, kids can be outside by their own or with another kid (even on vacations). In reality, everything is literally parent supervised.
In the Chat sessions, the Miis act like they know everyone in the island (acquaintances likely). Especially the I had dinner with conversation.
I find the reports involving Miis and animals really creepy and disturbing. The only exception is the Centaurs one cause I find that kinda funny.
Who exactly is serving Miis coffee at the Café?
What exactly does the Miis do in the Clothing Shop?
A Mii can invite a couple that just broke up. In real life, you wouldn't really wanna see your former partner after you broke up (unless you are still friends).
How is life "unexpectedly tough" after you got a fight rejected and possibly lost that friend? Did that friend mean so much to you?
When a Mii wants to make up, confess, or propose, if the other Mii is asleep, somehow that Mii knows the event is coming and randomly wake up. If it's a make up or confess, the game acts like nothing happened (except for if the confession goes well.)
A Mii can have a crab on their sleeve. A living crab and the Mii doesn't care/notices. Like that thing can hurt, dear.
Miis that are asleep can be seen in the Shops, Quirky Questions, Chat sessions, etc.
If a Mii levels up, that should cure any anger related problems. It's quite strange how the Mii will be thankful (if level 20+) despite still acting mad from the fight.
Disposable Camera:

One of the photos involve a shot of 4 people inside a Mii house despite only 3 people can be in one house (not including babies).
Another photo involves a female Mii who just found a new boyfriend (yes, you knew this was gonna be on here) with her ex looking out the window looking miserable at the Café. Even when the boy cheated on the girl (when a boy ditches their girl for another girl), the photo will always have a boy ex looking outside the window.

If were being honest, the game doesn't keep track of things like these. Hence, it doesn't keep track of who caused the breakup. But I still find it disrespectful how it will always be a male Mii looking miserable.

When cross dressing is involved in the 2 Miis wearing 1 Mii's clothes photo.
The photos where 4 Miis are at an amusement park ride despite only 2 is always seen being the max.

You cannot delete photos from the Photo Studio, especially when I've accidentally hit the X or Y button several times.
When you've lost your ability to propose. If you forgot to save the game, have fun going through over 50 restarts to have a Mii from the couple you want to get married propose again.
Once a Mii becomes married, if they want to divorce and they work things out, the statuses on both Miis won't change. Especially when it's at "Not getting along," This becomes much harder to deal with as there's likely another breakup request around the corner. Also, why doesn't the Mii gain happiness if its a success? I don't understand.
When you've accidentally tapped the thought bubble on a couple who just experienced a breakup/divorce. Have fun watching a flashback of a couple for 1½ - 2 minutes, and sometimes crying on how cute the couple was when they were together and now... they're not...
When you have quite strange pairs, or you think a certain Mii would be happier with another certain Mii. Have fun getting them to end their current relationship and watch the sad flashback like I mentioned above. It gets even more tedious if both of them are on the island and they're both taken.
Who watches sports at 4 am?
Mii - "I'm gonna stay up all night tonight!" Falls asleep right when you leave their apartment.
Relationships are a HUGE pain to deal with (especially with best friends and sweetheart/spouse ones). If you don't visit a certain Mii, their statuses WILL change without you even noticing. Like a Mii with "Best bud" can fall to "Good pal." 1 trick is to constantly reset until it goes up, but that can take forever so... good luck.
Another thing I hate about relationships, once Mii hits "Not getting along," eventually but slowly, the other Mii will do the same.
I was told I can ignore the Mii until a orange problem appears, but that can take forever or it will keep falling. I guess that's just how I take care of them.

Often when Miis engage in conversations, 1 will go up while the other will go down.
It kind of sucks when a Mii falls asleep at their house. Because then you can't check their relationships. I mean you still can in the Town Hall but it's hard to tell the status.
The random factor in the chat sessions can get completely random and weird. For example:

Female Mii - "I had dinner with [Mii] recently, all he/she could talk about was potties." I don't even wanna know what they're up to if they say that. Also, "That's so him/her!"
Mii - "I smelled super yummy when I walked by [Mii]'s apartment yesterday."

Another Mii - "So that's why the hallway smelled liked delicious spoiled milk." Umm, spoiled milk is delicious? What?

"Saleh isn't going out with anyone at the moment, right?"
When a Mii asks what they think of him/her, one of the Miis will think they were someone else and still gets confused. Especially when there's a big difference between the 2 Miis mentioned.

How does a sad Mii get involved in a fight when they just sit in their apartments? Hey, at least their sadness is cured... This also applies to Miis that are lovesick as they just, sit in their apartments. Another thing, a Mii that was sad from a fight can get into ANOTHER fight and become even sadder (if it gets rejected and I know this doesn't actually happen). Basically Miis can constantly have fights until their popularity meter drops (not really).
Apparently fights completely take over a Miis mind, that if his/her sweetheart is stolen by another Mii, that the Mii doesn't realize his/her sweetheart was stolen because of that fight.
Just like the 50-59% rating in the Compatibility Tester. "One bad day together can ruin this friendship." It's not wrong.
In my opinion, the flying disc event should be from 8AM to 10AM. I don't like waking up early to access this event.
Some of personal questions are a little too personal. Like a Mii can ask if you're married or if you've ever broken up with someone, it's a good thing that they don't ask how it happened cause that's even more personal.
I find the funny faces more creepy than funny.
It really creeps me out when a Mii that woke up after you viewed their dream looks at the camera, like how does that Mii know that I was there?
I get annoyed hearing any long time no see greeting especially when they sound dead on serious. I have 92 islanders and I guess since I favor some Miis over another, some Miis are just more problematic than others, and I restart a lot too.
When adults act immature.
Using CAPS to emphasize a word yet the Mii still says it normally.
The fight flashbacks are the dumbest things in the game. Literally they're fighting over a potty or consistently hurting the other Mii and breaking valuable items.

Also, when a Mii mentions that they "had this bear" before the other Mii was born despite being younger than the other Mii. Hmmm...

Somehow, a Mii can fall from 10' in the air and not take any fall damage in the solo Techno song. Also the same Mii can jump 10' in the air without a trampoline present on the floor.
So... does a Mii that is sick of fighting just walks in to the other Mii's apartment? Because, when you overlook the other Mii's apartment, you'll see that the door is closed. Does that Mii somehow know that the other is sick of fighting so he/she just leaves his/her door open?
Once you give a Mii a phrase, you can't get rid of it. If you want to use that Mii for a QR Code, they will have the phrase with it (What you can do though is you can erase the Mii and if you have the same Mii from Mii Maker, import it. Just make sure to restart, though!)
Whoever made the US version of TL seemed very lazy because the majority of the statuses under yellow is "Getting along OK," "Kinda getting along," and "Not getting along."
"I've been in business for 20 years!" Says a Mii that's 11.
Opposite gender best friends. Not a fan of those even though I have a few.
The rate the heartbeat plays when a Mii is nervous is kind of interesting.

When a Mii is thinking about proposal, the rate is 38 BPM.
When a Mii is about to confess or just talking with their sweetheart, the rate is around 44 BPM. When a Mii is about to propose marriage, the rate is around 75 BPM. I get why this is the case, it's to not make it too rapid and distract the player.

Turns out the Miis are not really nervous. Understandable.

Finding a Miis current sweetheart at the Café during a confession.
Unless you really want a Mii's happiness to go down, they should reject any foods they hate.
I don't like using Age-O-Matics on kid Miis, especially if it's one of my Miis I made... Best solution for this is to send the kid Mii to Mii Maker before using the Age-O-Matic or set their birthdate to be 18 the next day.
A Mii cannot have just their eyebrows dyed. If you go into the Mii maker and try to revert the dyed Mii's hair, their eyebrows will go back to their original color as well.
When you get "He/She liked it" when trying to calm down an angry Mii.
Miis out in the park in December. Also, why can they also be in the beach during this time? Especially when they're running in the water. Also, In the bottom screen of Mii Homes, there is snow, but in the top? its grass. This applies to all months but yeah..
Why is some of the "be showy" statements a question? In my opinion, they should all be "you should definitely date me" or something. The Café one for example, "I'm like the smell of fresh coffee in the morning - totally irresistible! You wanna be my boyfriend?" Why would he wanna be your boyfriend if you're "totally irresistible?"
I'm really curious on how and why 2 Miis need a birthday to get a compatibility ranking. Especially 0% ones.
When you tap the heart when it's the Mii you wanted, but 0.1 seconds later it changes and you missed. Especially when you only have 1 heart left.
It's interesting to see a boy invite all girls to their room and vice versa. Is apartments like open invite or something? Also interesting to see all boys in a girl pity party and vice versa.
Music theory wise, if you choose a Mii to "Sing a song" when confessing, the Mii confessing often shifts keys like every line while singing.

For example: In the Concert Hall:

Line 1: E Major
Line 2: D♯ (E♭) Major
Line 3: E Major
Line 4: E Major
Line 4 2nd half: A minor
Also in the Concert Hall: "siiiiiiiiiiiiiiiiing"

Intonation 2 in the US version.
When you manage to find a Mii's Worst Ever food when they're so close to leveling up.
What exactly is the difference between a normal Fight and a huge one? Other than the way to resolve it is for a mutual friend of both Miis (usually the best friend of 1 of the Miis), the flaming aura, and the awesome metal music, what? Is it that it happens when the game isn't powered on?
When the game gives out really long pauses or my 3DS has a black screen with the Toad House music playing. Sometimes I freak out when this happens.
I also freak out when my 3DS sits on a black screen for a long period of time while loading the game.

Why is it that I can skip the All time/Super All time food reactions but I can't skip the Worst/Worst Ever ones? I don't understand..
Environment interruptions (yellow dialogue) are really funny to me, but how is an announcement in the train station so loud that the other Mii can't hear?

Also instead of freaking out when the ferris wheel starts swinging like crazy, the Mii says that he/she couldn't hear the other Mii.

Really game? I have to pay $21 to delete a Mii? Is that my punishment from the islanders to delete a Mii? If it was something like $1,911; then that would've made more sense.
I find it dumb that the people who attend a Pity Party are mostly based off the order you added the Miis. Like most of the times I'm seeing Saleh at every Pity Party.
A Mii can sound completely disinterested during a Mii birthday. Just get out if you wanna be that way.
Miis bringing the wrong gift to a party (see the top left picture below). "Party" by my definition is When 4 Miis are at 1's apartment all using the same gift.
Siblings or best friends interrupting a love confession.
I find it dumb that the male version of the Hero dream will always have the Mii in a Red Robo-hero suit.
When a Mii has that slim chance to choose a love rival when the confessed Miis relationship is "Good pal" status with the rival over the confessor Mii when the confessed Mii has a "Good buddy" status with the confessor, or the confessed Mii rejects all 3 Miis in which the confessed Mii has at least a "Great pal" status with all 3 Miis. I guess I don't pay that much attention to statuses to notice this cause this shocks me when this happens.
The fact that the child stroller is always pink disregarding the gender of the child. I personally don't really like the color pink so yea.
I will not max out the clothing and treasures; as some clothes are needed through Streetpass & Spotpass.
A Mii is worth $0.55, which doesn't make sense as the Daily Donations are rounded to the nearest 10¢; and to erase a Mii its $21.

Tomodachi Life doesn't follow math confirmed.

How do the travelers actually come back to their parents' home? When I get a phone call regarding their child came back, they're not actually back. But when they are actually back, they just chill at the dock. I guess they're nervous to actually go to their parents' home if they do actually come back.
QR Codes don't use custom pronunciations.
If you've been playing the game for a while, you'll notice how repetitive the game gets and like you know what is coming next. It's not a good feeling.
Some of the things a traveler mention when telling a story to a Mii actually seem pretty scary.

Like one of them is a tornado blowing the traveler's home.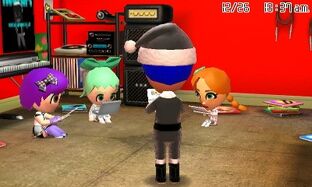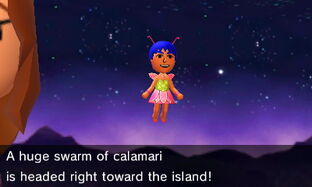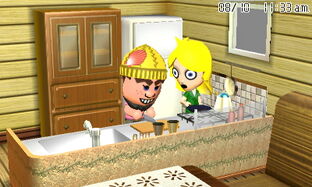 Community content is available under
CC-BY-SA
unless otherwise noted.