Quote

"

For lil' ol' me? Are you sure? In that case, I'm off to have fun!

"

— Mii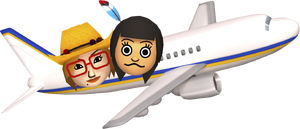 Vacations (known as holidays in the UK) are an event that happens in Tomodachi Collection and Tomodachi Life. Miis will travel across the world and spend time there, and will bring the player back a treasure from that location which cannot be obtained elsewhere.
In order to take a vacation, Miis need to be given a travel ticket. They will then go either by themselves, with 1-2 friends, their significant other (if they have one), or with the entire family if the Mii has a child (or a grown-up child). They will travel to a random location, such as Africa or Japan, and will comment about three different aspects of the place they're visiting (while there are five aspects per location, three of them are chosen randomly). At each location they will take a picture, which can be saved at the end (saving pictures is only possible in Life).
Honeymoon
After a wedding, the newlyweds will go on a honeymoon, which much like a vacation, has the two Miis visit a random location, take three photos, and return with a treasure. This does not take up a travel ticket, as it is done automatically.
Space
In Tomodachi Life, once a Mii is given an overall total of $10,000 (or pounds/euros) in pocket money, they will take a trip into space. If the Mii has one, he/she will bring their family along (spouse and child). This will award the traveling Mii a free white astronaut suit and unlock it for purchase in all available colors in the clothing shop.
Trivia
Any Mii who traveled with the Mii who was given the travel ticket will have their relationship level with the Mii raised by one level or two.
In the US version, the photographer says, "Cheese!" after the leading Mii says its line, but in the European version, the photographer says, "Let's take a photo!".
If a Mii is given a travel ticket when sad or angry from a fight, they will travel alone and lose all sadness. They will not give the player a souvenir, however.
Tomodachi Collection Vacations
Locations
France
Souvenir

French Doll
Tourist Location
Image
Lines
Arc de Triomphe
Arc de Triomphe
Château de Chambord
Château de Chambord
Eifel Tower
Eifel Tower
Louvre
Louvre
Madeleine Temple
Madeleine Temple
Mont St. Michael
Mont St. Michael
Opera Garnier
Opera Garnier
The Seine at Night
The Seine at Night
Hawaii
Souvenir

Key Chain
Tourist Location
Image
Lines
Beach
Beach
Evening Beach
Evening Beach
Fruit Stand
Fruit Stand
Halacala Volcano
Halacalia Volcano
King Kamehameha
King Kamehameha
Magic Island
Magic Island
Pineapple Fields
Pineapple Fields
Hong Kong
Souvenir

Chopsticks
Tourist Location
Image
Lines
Central
Central
Central at Night
Central at Night
Clock Tower
Clock Tower
View from Ferry
View from Ferry
Italy
Souvenir

Brooch
Tourist Location
Image
Lines
Castel Sant'Angelo
Castel Sant'Angelo
Colosseum
Colosseum
Doge's Palace
Doge's Palace
Florence
Florence
Gondola
Gondola
Mouth of Truth
Mouth of Truth
Roman Forum
Roman Forum
Kyoto
Souvenir

Old Tower
Tourist Location
Image
Lines
Eikando
Eikando
Fushimi Inari
Fushimi Inari
Honen
Honen
Shodenji
Shodenji
Okinawa
Souvenir

Shisha
Tourist Location
Image
Lines
Ocean
Ocean
Red-Tiled House
Red-Tiled House
Shisha
Shisha
Shuri Castle
Shuri Castle
Sugar Cane Fields
Sugar Cane Fields
Zakimi Castle
Zakimi Castle
Shanghai
Souvenir

Handkerchief
Tourist Location
Image
Lines
Oriental Pearl Tower
Oriental Pearl Tower
Shanghai Museum
Central at Night
Xintiandi
Xintiandi
Spain
Souvenir

Spanish Fan
Tourist Location
Image
Lines
Andalucia Sunflowers
Sagrada Familia
Plaza de Cibeles
Plaza de Cibeles
Roman Aqueduct
Roman Aqueduct
Royal Palace in Madrid
Royal Palace in Madrid
Sagrada Familia
Sagrada Familia
Toledo
Toledo
White Village
White Village
Thailand
Souvenir

Elephant
Tourist Location
Image
Lines
Ayutthaya
Ayutthaya
Elephant Camp
Elephant Camp
Market
Market
Wat Pho
Wat Pho
Tomodachi Life Vacations
Locations
Africa (US and EU Only)
Souvenir

Desert Sand
Tourist Location
Image
Lines
Baobab Trees
"Baobab Trees are so cool looking!"
Sleeping Lion
"Quiet! Don't wake the lion!"
Sahara Desert
"The Sahara has so... Much... Sand..."
Savanna Sunset
"The sunset over the savanna is absolutely breathtaking!"
Marketplace
"There are so many spices for sale in this market. I wanna buy them all."
America (US & EU only)
Souvenir

Home Run Ball
Tourist Location
Image
Lines
Statue of Liberty
"I'm the same size as the Statue of Liberty!"
Monument Valley
"Monument Valley is so majestic!"
Seattle
"Seattle is such a beautiful city!"
Sequoias
"Sequoias are so big in person, it's crazy!"
Miami Beach
"This is a great spot to see Miami Beach!"
Australia (NA and EU Only)
Souvenir

Kangaroo Warning Sign
Tourist Location
Image
Lines
Koala
"Koala love eucalyptus. So cute!"
12 Apostiles
"The 12 Apostles on the Victoria coast look so cool but also a bit wobbly..."
Australian Desert
"The deserts here are so hot! I couldn't handle being a camel."
Sydney Opera House
"The Sydney Opera House is such a neat-looking building."
Uluru
"Uluru is also called Ayers Rock. It looks amazing at sunset!"
Cambodia
Souvenir

Krama Scarf
Tourist Location
Image
Lines
Angkor Thom
"Angkor Thom was the capital city here 1,000 years ago."
Angkor Wat
"The reflection of Angkor Wat in the background is just perfect."
Banteay Srei
"Banteay Srei is 1,000 years old and so mysterious..."
Ruins
"These ruins are really fascinating!"
Angkor Wat Enterence
"What could be behind the entrance to Angkor Wat?"
China
Souvenir

Plush Panda
Tourist Location
Image
Lines
Jixhi Valley
"I'm at Jixhi Valley. Nature is so beautiful!"
Huanglong Pools
"These natural pools in Huanglong should make a great background."
Panda
"This panda is so cute! Get a picture of us together!"
Five Flower Lake
"The water of Five Flower Lake is really clear and full of ancient fallen trees."
Waterfall
"This waterfall is so loud! But it makes for a great picture."
Egypt (JP and EU Only)
Souvenir

Desert Sand
Tourist Location
Image
Lines
Egyptian Ruins
N/A
Egyptian Statues
N/A
Egyptian Temple
N/A
Pyramids of Giza
N/A
Sphinx
N/A
France
Souvenir

Fancy Soap
Tourist Location
Image
Lines
Seine River
"I love how the river Seine flows right through the heart of Paris."
Strasbourg
"Strasbourg is so beautiful and historic!"
Arc De Triomphe
"The Arc De Triomphe is over 200 years old!"
Eifel Tower
"The Eifel Tower is so romantic!"
Plaza de la Concorde
"The Plaza de la Concorde is so grand! It's the largest square in Paris."
Mont-Saint-Michel (JP Only)
"モンサンミッシェルで~す"
The Louvre(JP Only)
N/A
Germany
Souvenir

Nutcracker (US)

Piece of Berlin Wall (EU and JP)
Tourist Location
Image
Lines
Bradenburg Gate
"Bradenburg Gate is so impressive!"
Munich Town Hall
"The Munich New Town Hall is so ornate, and the glockenspiel still chimes like clockwork!"
Rhine Valley
"The Rhine Valley is really picturesque!"
Rhine River
"The Rhine is just beautiful..."
Rudesheim
"Rudesheim is such a romantic town."

Neuschwanstein Castle (JP Only)

"ノイシュバンシュタイン城 で~す"
Hohenschwangau Castle (JP Only)
"ホーエンシュヴァンガウ城で~す"
Guam (JP Only)
Souvenir

Bojobo Doll
Tourist Location
Image
Lines
Guam Cave
N/A
Guam Lagoon
N/A
Guam Sunset
N/A
Palm Tree
"ヤシの木で~す"
Park
"グアムの公園で~す"
Hawaii
Souvenir

Sunset Keychain
Tourist Location
Image
Lines
Train
"I love traveling by train!"
Hawaiian Waters
"Hawaii has such crystal clear waters!"
Kilauea volcano
"Kilauea volcano is hot, hot, hot!"
Laniakea Beach
"Laniakea Beach is great for turtle watching!"
Palm Trees
"Nothing says tropical like palm trees!"
Italy (JP Only)
Souvenir

Leather gloves
Tourist Location
Image
Lines
Fountain of Neptune
"ウフィツィ美術館前の噴水で~す"

Piazza del Duomo

"ミラノドゥオモ広場で~す"
Trevi Fountain
"トレビの泉で~す"
Pitti Palace
"ピッティ宮殿で~す"
The Colosseum
"コロッセオ前で~す"
Japan (US and EU only)
Souvenir

Folding Fan
Tourist Location
Image
Lines
Inari Head Shrine
"The Inari head shrine is one of the best places to see toril gates all lined up together."
Kumamoto Castle
"Kumamoto Castle is really impressive."
Mt. Fuji
"Mount Fuji is one of the most famous active volcanoes in the world!"
Okinawa Beaches
"Okinawa has such beautiful beaches!"
Tokyo
"Tokyo looks so amazing at night!"
Kyoto (JP Only)
Souvenir

Folding Fan
Tourist Location
Image
Lines
Japanese Wall
N/A
Kamogawa River
N/A
Yasaka Pagoda
N/A
Yasakajinja Temple
N/A
New York (JP only)
Souvenir

Home Run Ball
Tourist Location
Image
Lines
Horse Carriage at Central Park
"セントラルパークで~す"
Long Island Sound
N/A
Main Street
N/A
Prometheus Statue
N/A
Peru
Souvenir

Pan Flute
Tourist Location
Image
Lines
Lake Titicaca
"Lake Titicaca! The people here are so nice."
La Raya mountain range
"La Raya mountain range is so high up. I feel on top of the world!"
Machu Picchu
"Machu Picchu is an absolute wonder."
Nazca Drawings
"The drawings at Nazca are so big! How did they draw this bird so well?"
Cuzco Stone
"This stone in Cuzco has 12 corners!"
Space (Secret Location)
Souvenir

Martian Rock
Tourist Location
Image
Lines
Andromeda
"Doesn't Andromeda look awesome?!"
The Moon
"Earth looks so beautiful from the moon!"
Space Frontier
"I'm so high in the sky!"
Saturn
"I wonder what Saturn's rings are made of..."
Mars
"Mars is so...red!"
Switzerland
Souvenir

Cowbell
Tourist Location
Image
Lines
Basel station
"Basel station. The trains here are as on time as a Swiss clock!"
Interlaken
"Interlaken is the gateway to the Alps. The buildings are full of history."
Chapel Bridge
"The Chapel Bridge in Lucerne is filled with beautiful old paintings."
Basel Fountains
"The pool in Basel has nine cool fountains that spray water as if talking together."
Swiss Alps

"The Swiss Alps look majestic any time of year."

Pavillon Le Corbusier (JP Only)
"コルビュジエハウスで~す"
Tahiti (US and EU Only)
Souvenir

Shell Necklace
Tourist Location
Image
Lines
Moorēa
"The mountains and ocean at Moorēa are simply stunning!"
Black-Sand Beach
"This black-sand beach is made from volcanic lava rock!"
Palm Trees
"Palm trees swaying in the sea breeze... So tropical!"
Tahiti Sunset
"A sunset in Tahiti is the perfect photo op!"
Tahiti Lagoon
"The water in this lagoon is great for photos but even better for a swim!"
Gallery
Tomodachi Collection
Tomodachi Life
Community content is available under
CC-BY-SA
unless otherwise noted.